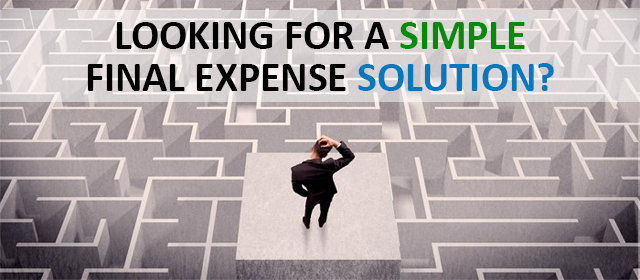 We are proud to announce a NEW Final Expense Product from an A-rated company!
Competitive premium rates!
Agency Level contracts available
Street Level 115%
Telesales are available with easy voice signature process
Great compensation with good renewals
Underwriting is impairment driven not medication driven; maintenance & preventative drugs may not be deemed treatment
Immediate Point of Sale underwriting decision
Available in most states
The company will pay for all appointment fees resident and nonresident
See additional details below contact form.
Submit the form below to receive more information!
"Simple Life Solutions" Life Insurance Program Summary:
Competitive premium rates!
Flexible payment modes – monthly, quarterly, semi-annual and annual bank draft

Direct bill may be an option for certain payment modes

Lifetime protection with a whole life policy (as long as scheduled premium payments are made)
Immediate underwriting decision with Elite Sales Processing (ESP) via telephone

Average personal health interview takes 11-12 minutes

Premium rates will not increase regardless of your age and health
Coverage is guaranteed regardless of future health
Face value will never decrease
Non-seen/voice authorization sales option ($15,000 max benefit)

Complete sales is done over the telephone

Cash value buildup
Agent Commissions paid daily or weekly; commission paid on approval of applications
Live customer service for both client and agent support
*Both Level & Modified products are not currently available in ME, MT, NY and WA
Level Benefit/Preferred Plan (Available for ages 0-85)
Immediate full face death benefit that equals 100% of the face amount. (Not currently available in ME, MT, NY, WA)
Issue Age    Benefit Amount
0-60            $5,000 to $50,000
61-70           $3,000 to $25,000
71 -80          $3,000 to $25,000
81-85           $3,000 to $20,000
Modified Benefit/Return of Premium Plan (Available for ages 40-80)
Full face death benefit beginning the third year. Death benefit is limited in the first two years to the return of premiums paid, plus 10% interest. (Not currently available in AR, MA, MN, NC, PA)
Issue Age    Benefit Amount
40-60          $5,000 to $15,000
61-70           $3,000 to $15,000
71-80           $3,000 to $10,000